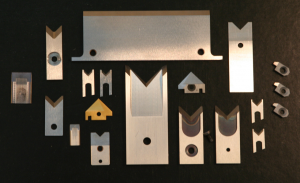 There are some things we all have in common. Not overpaying our suppliers is one of them.  Wire cutting and stripping blades are the type of purchase most companies make multiple times a year, which means you could be overpaying on your blades multiple times a year. It also means, since you were smart enough to read this article, you'll now know you're overpaying and know you that you don't have to anymore.
So, how do you know?
1. You still buy straight from the OEM. Many companies are overpaying by purchasing their wire cutting blades straight from the OEM. Often, companies are unaware that they have choice in where they can purchase their blades from. They've bought the machine from the OEM and were told that's where they can buy the blades from too. The problem with purchasing from your OEM? You're paying 40%-60% more than you would be from an aftermarket blade manufacturer. Right now you're probably adding up what paying that much extra overtime is costing you – or at least you should be.
2. You ask yourself – Why do these blades cost so much? – every time you have to order more.  If you feel like the cost of replacement blades is starting to add up to the cost of the machine that chews them up and spits them out, you may be overpaying for your blades. You also may think aftermarket means used or low quality. This is a myth, aftermarket blades a brand new and have never been used. They are made from high quality metals like A2 steel and are often offered with titanium coating.
3. You're sad because you already know your blades are expensive but don't want to sacrifice the quality. Contrary to popular belief, paying more doesn't always mean you're getting more. In fact, those who have changed from the OEM to an aftermarket blade manufacturer for their blade needs have found that they are not only saving more on cost but are also able to purchase blades less times a year due to a longer blade life.
There's only one way to find out if aftermarket blades really will cost up to 60% less, have the same precision quality, and last as long or longer than what you're using now.  Compare the prices of your blades to the ones in our Online Wire Stripping Blade Store and give us a try – just once – we promise you won't regret it! If you don't see your specific blade listed, or would like to request a custom blade, give us a Contact Us and we can give you prices and availability.
So now that you know, where will you spend those savings? Leave a comment!
Related: For more on things you can do to help save money for your company read our post: Making Smart Purchase Decisions on a Tight Budget: Small Business Advice