JWB Exhibits at Electrical Wire Processing Technology Expo
This makes 3 years in a row that JWB hosted a booth at the Electrical Wire Processing Technology Expo in Milwaukee! CEO Jeff Barth eagerly greeted both new and familiar visitors at the booth this year. "I can't believe how many familiar faces I saw, it was great to continue building those relationships and to hear success stories first-hand from new customers who were visitors to the booth in previous years," says Jeff.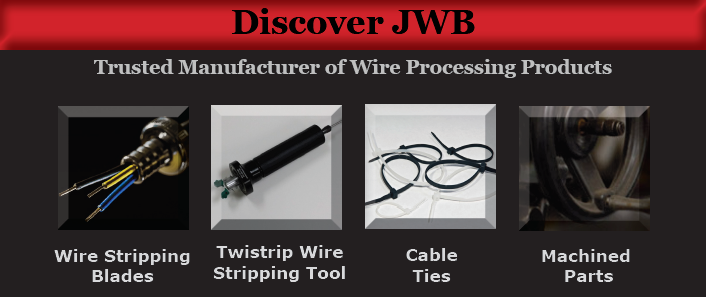 While at the show, JWB also introduced their new wire processing management product offerings. These include a wide range of cable ties and the Twistrip wire stripping hand tool. In addition, a display showcasing our most popular wire stripping blades drew attention from visitors.
All of JWB's blades are 100% Made in USA and Satisfaction Guaranteed. Plus, with prices up to 60% lower than OEMs and competitors, it's a hard discovery to pass up!
A big 'Thanks' to everyone who stopped by this year!
JWB invites you to visit our Online Store or Contact Us for more information about products and pricing.